The Year 2013 will always be the year that scrapbooking changed my life. A few months before that, in late 2012, I started attending craft and art workshops, thanks to Life After Breakfast and Craft MNL. At first, I still had remnants of my old life as a Japanese language teacher, I was looking for ways to incorporate arts and crafts to make learning enjoyable, and mostly memorable. But eventually I was just looking to make pretty things.
ALL ABOUT SCRAPBOOKING (AAS) of Filstar Distributors Corp.
It was looking through supplies in National Bookstore that I came across an application form for All About Scrapbooking. At the time I was only curious and interested in the materials they have. I was at a loss why the meeting would take up more than 3 hours, I mean, how long would it take to just paste decorations on a page? I had no idea at all how complicated it could be.
At the first meeting I finally attended, the instructor made us cut our own petals and assemble it into the most complicated flower I have ever seen. I had no idea what distressing or tearing meant, and how interesting it could make a page. Around me people were taking out their special "craft" stamp pads, and bringing whole paper cutters, not just ordinary rulers, and using double sided tape was already a given.
Every meeting there was always something new to be learned, at least for me. The other workshops I attended before, calligraphy, bookbinding, watercolor, knitting, polymer clay… the basics are easily grasped and all that is left is mastery. But with scrapbooking, everything is a continual surprise. All About Scrapbooking (AAS) not only taught scrapbooking techniques, but how to make extra items as well e.g. picture frames, boxes and drawers using scrapbooking paper. It was worth the membership fee and kit fee. Sometimes I wonder if they were losing profits because of us because they also gave away a lot of freebies.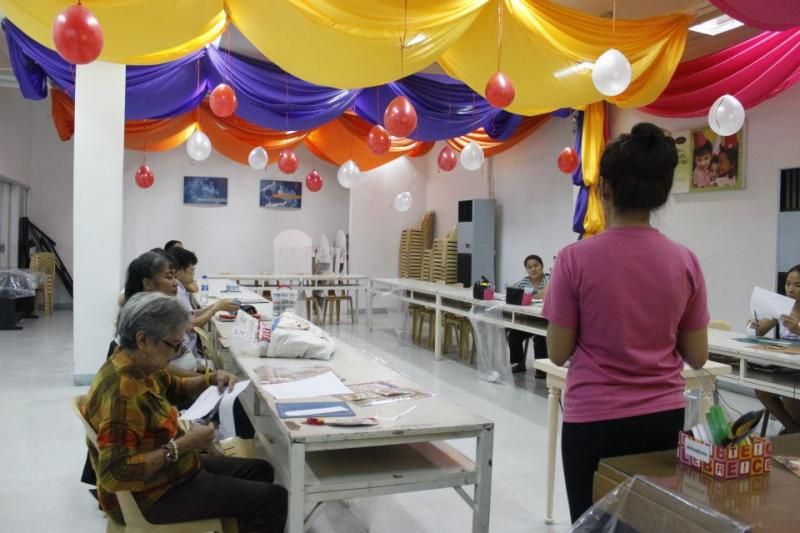 Sadly though, All About Scrapbooking (AAS) had to stop the monthly club. I tried my best in their Speedscrap competition as a last hurrah, but all it gave me was the certainty there was still a lot I didn't know. Most of all, I didn't have the scrapbooker's eye, the one that could gather so many elements together and still make it work.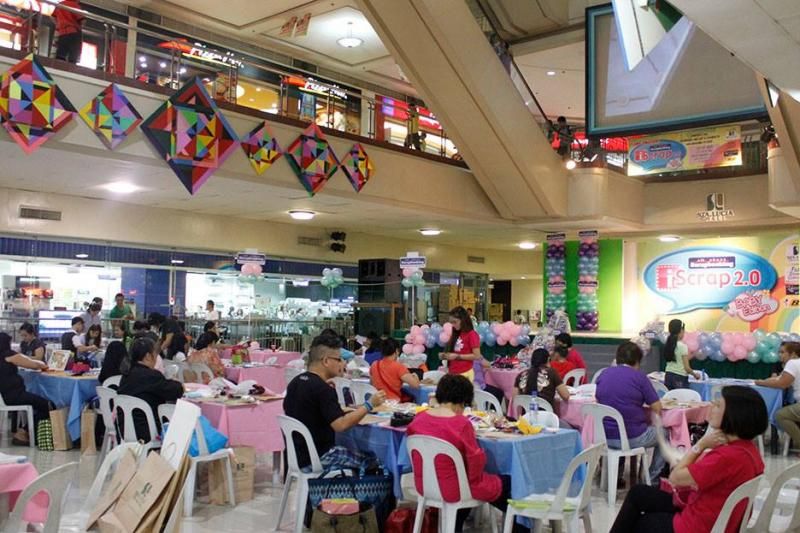 DISCOVERING THE GROUPS OF PHILIPPINE SCRAPBOOKERS and CRAFTERS ONLINE
Fortunately, I discovered the Philippine Scrapbookers (The Filipino Scrapbookers Club, Pinoyscrapbookers and the Filipino Scrappin' Moms) and Philipppine Crafters Association. Say what you will about facebook's invasion of privacy, but in this case it worked to my advantage.
If facebook had not been monitoring my preferences I would never have known about these groups, and eventually the workshops at Lasting Impression, Yellow Violet House etc. And if I felt I lacked scrapbooking knowledge before, oh boy, more so now. Now there's embossing, stamping, stenciling not with ink or paint, but with gesso and gel medium. And there's the heavier, more expensive, equipment, Sizzix, Cricut, Cameo, Silhouette, and their corresponding dies and folders. And the paints! Mists, dabbers, reinkers, each with a gazillion hues.
I know that when a veteran scrapbooker reads this she would smile and think I only mentioned the tip of the iceberg. The atmosphere is different too. At All About Scrapbooking, every meeting was a kid's party. I miss the kindness, patient, upbeat and encouraging energy of the instructors. The Lasting crowd is grown up time, everyone already knows more or less what to do, and experienced hands work away while anecdotes are exchanged and all sort of things are discussed. I don't think there is any other art or craft where a single layout is shared but each of us makes it uniquely our own, and no other art or craft that could gather different ages and backgrounds together.
ALL ABOUT LASTING IMPRESSIONS: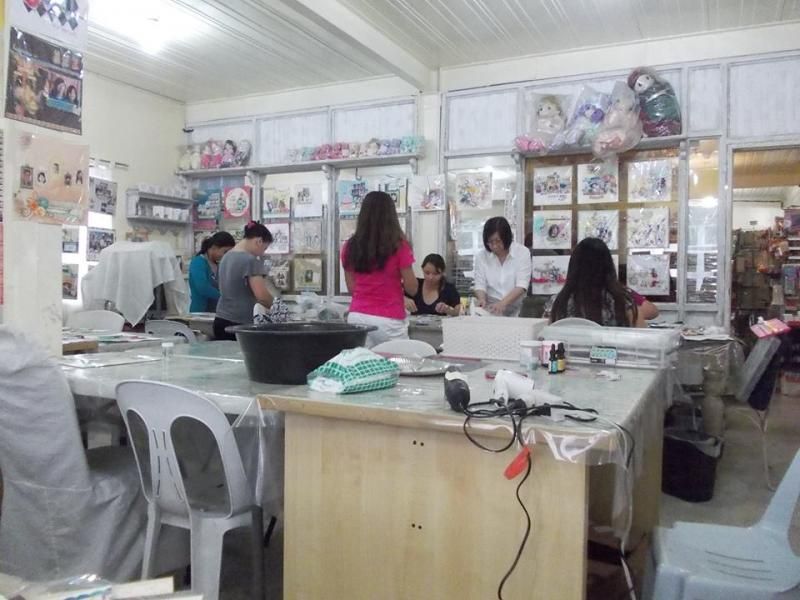 My first Lasting Impressions workshop was with Ms. Cecilia Atengco, who made cards with Magnolia stamps, but I always think of them as mini-scrapbook pages. For me who thinks of cards as a printed picture at the front and a message inside, the cards were out of this world. The paper was thick and luxurious. (Later I learned it was called cardstock.)
The embellishments were beautiful vintage images that I had no idea existed outside old faded international magazines. The other shapes were precisely cut as if they could be bought too but were actually cut by Ms. Cecilia herself using dies. It was my introduction to the wonderful, complicated world of distress inks.
It was also the first time I got to use gesso as both decoration and adhesive. She showed us cleverly constructed cards she had taught in the past that made us sorry we missed them. In her next class though, she started using embossing powders a lot, enough to make me get a heat gun (good thing her nephew Aaron introduced his Black and Decker one).
My second workshop was with Ms. April Lim. I actually had no idea what Project Life was. I was just given a kit and her layouts and she encouraged us either to imitate hers or make our own while she continued making more. I am grateful to Ms. April for that was the first time I learned and I can think of a lot of scrapbook layouts in one sitting. And although she didn't use anything fancy, just the stickers, chipboard etc. in the kit, she was able to make pretty complex designs.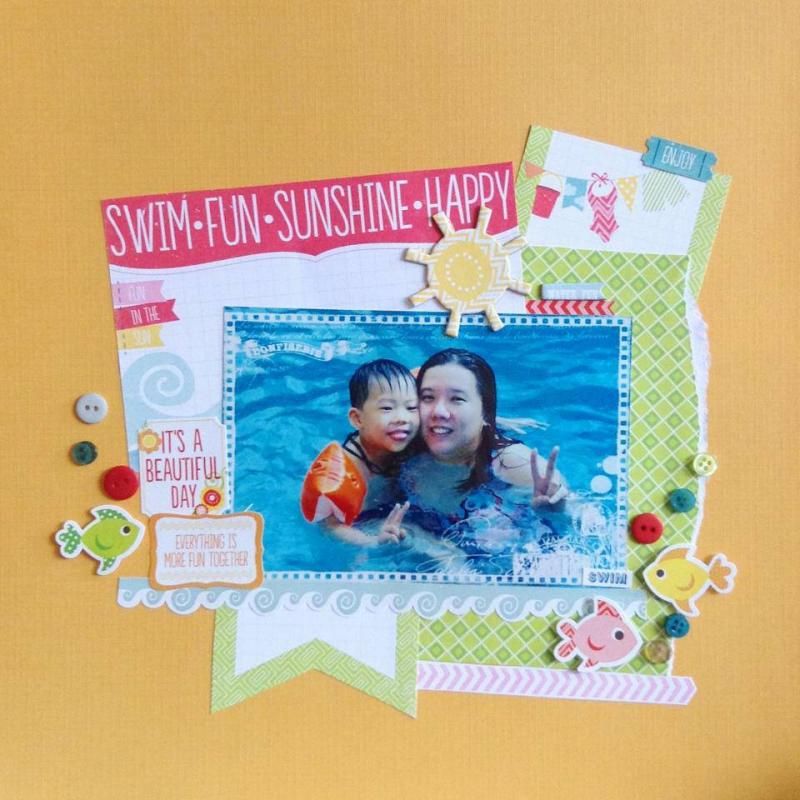 My third workshop was with Ms. Iris Babao Uy. Because of her, I started to use mists and stencils in the background, and hoarding lots of charms to decorate. I was used to cutting out parts from scrapbook paper in All About Scrapbooking, but she took it to a different level, using flowers in one paper to decorate several layouts. On the other hand, she used the multi-green part of a paper to punch out leaves, and I began to see possibilities not just in the patterned parts of papers, but in the plain color only parts as well. Most interestingly she used gel medium to give 3 dimensional life to the stencil backgrounds. However Ive only been using gesso for stencils just as introduced by Ms. Ime Oranga.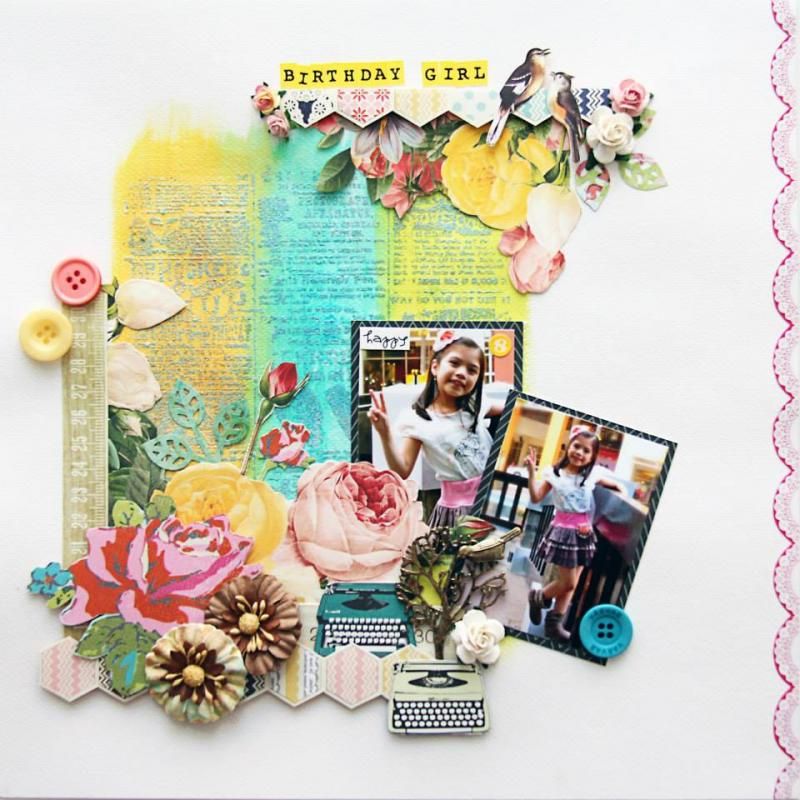 ON GOURDO'S STORE
My first workshop with Ms. Ime was actually not in Lasting but in Gourdo's, the very first scrapbooking workshop held by them actually. I applaud Gourdo's for branching out, but it was a different crowd, everyone fell into talking about Krupps and Wilton when I was used to folks talking about Fiskars and Tim Holtz. I know how to tear paper, but once again it was taken to a different level by Ms. Ime. Tearing and distressing corners to make it look like the background was made of 3 pages. I learned to love spreading gesso on all things from her, and using brads (conveniently cutting out the prongs and just sticking them with double sided tape) and using washi tape, pearls, chipboard letters and even popsicle sticks. Ms. Iris had used a large stamp (I never knew there were stamps larger than your hand) with embossing powder in one of her layouts. From Ms. Ime, on the other hand, I learned to use stamps all around the page.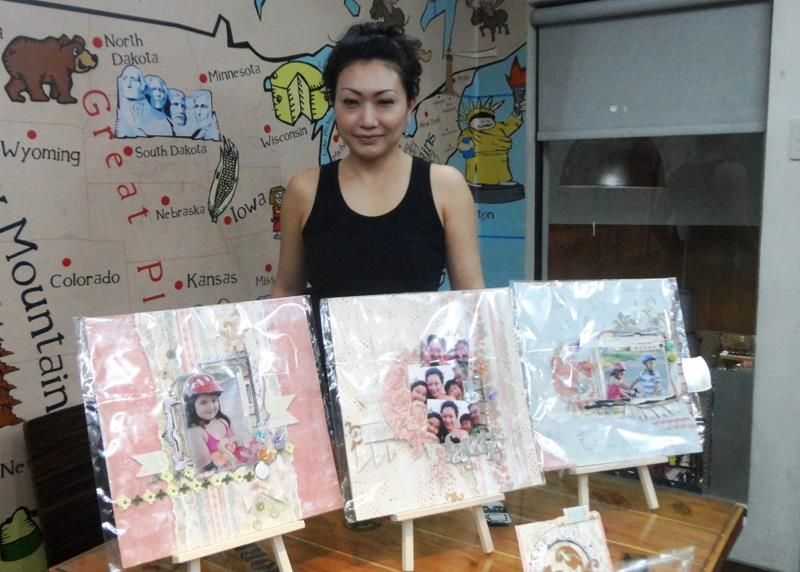 ON CHARITY WORKSHOPS:
Then, Yolanda happened. The charity workshop organized by Ms. Bessie, Ms. Karen and Dr. Sharon made it easier for me to donate. Dr. Sharon showed us how to make a 3-tiered sliding card, and it was like being in All About Scrapbooking again, especially we had a couple of kids joining us too.
From Ms. Bessie, I learned to make tags with stamps and washi tape. I like that they could express sentiment in such little space and it took me a while, but Ive only recently started getting into this more.
Ms. Karen showed us different kinds of layouts but only us sketches or guides. Much as I learned a lot from the above, it was relaxing not to try to copy the layout exactly this time (and Ms. Karen was there to hand out embellishments here and there if she thought your layout needed it), and we didn't use much paints or embossing that can get messy, just maintenance-free dabbers.
THE VERY 1ST MAGNOLIA DAY IN THE PHILIPPINES
Then the much-awaited Magnolia event finally came. Ms. Cecilia this time introduced the use of glass shards. Ms. Ime had white ink for stamps. (See, there's always something new.) Ms. Susan Lee came all the way from Dubai to introduce decoupage and kwilling. I didn't know there was actually a stencil for pie-sized clocks. I didn't think much of kwilling before, but after that afternoon I couldn't wait to make more flowers. They give a different life to cards than die cuts, and especially with color-gradient specialty paper strips.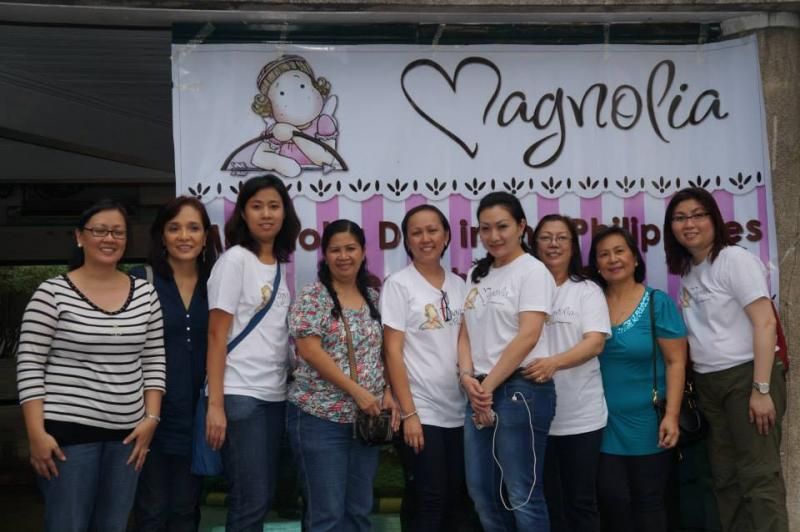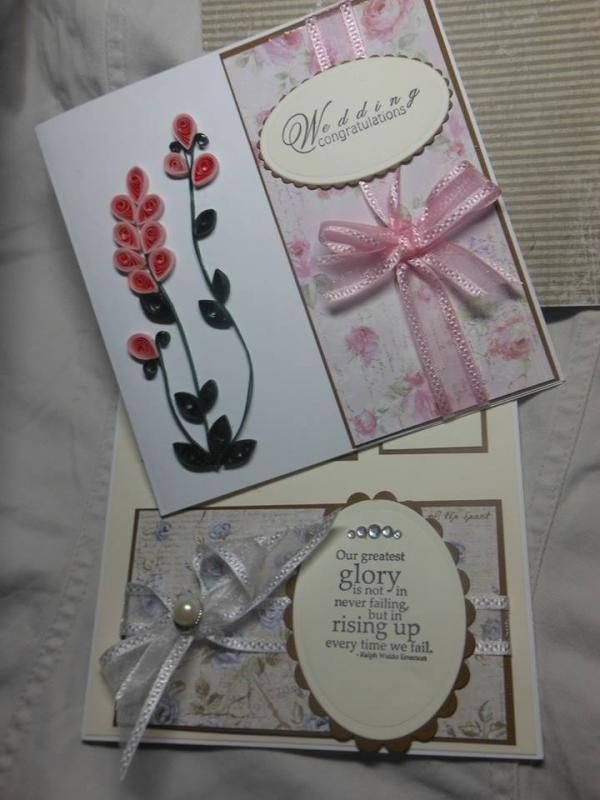 MS. RUTH's (of POP-A-CRAFT) WORKSHOP
I am looking forward to learning more from them this year. Ms. Ruth holds weekly workshops but I had bad timing when I'm in the area. But she kindly lets the kits be available anytime.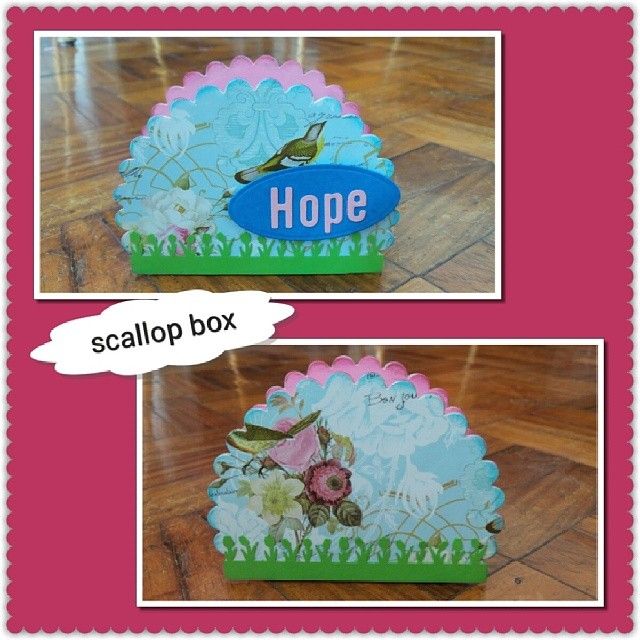 SCRAPBOOK MEET with SCRAP STASH
I have also went to a scrapbook meet with the Scrap Stash bunch comprising of Ainee, Tracy, Raisie and Rizz Claycat, unfortunately due to our schedules, it was only once. But we had a great time and I hope I have made friends for life. They make affordable scrapbook kits made of different embellishments from here and there, as well as making their own, giving me access to material I would never otherwise have come across. Rizz is also a professional polymer clayist, but that's a different story.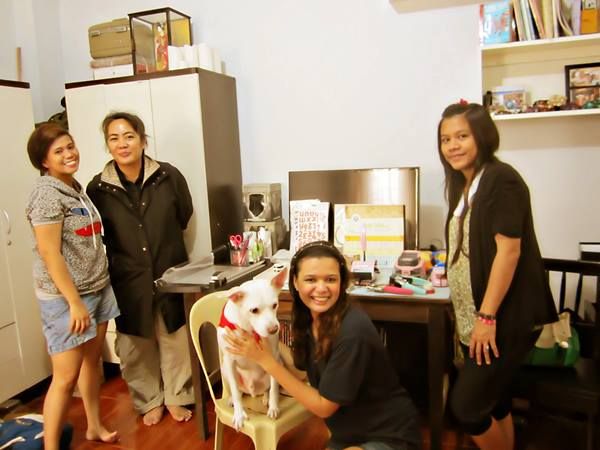 MS. GEM BLANCO'S WORKSHOP in ANGONO
I also went to Ms. Gem Blanco's workshop. She is part of the famous artist clan in Angono, Rizal. Her technik is incorporating watercolor with embossed cards, and it felt good to be in touch with the traditional arts again. Although later on she gave us a lot of diecuts to do delicate-looking card layouts with. I started hoarding rhinestones because of her.
I am fortunate I guess to currently reside in Pasig that they are within reasonable commuting distance. My only regret is having bad timing that I have never gone to The Yellow Violet House. Maybe this year 2014 I'll have better luck.